News
"Multitude of Voyces"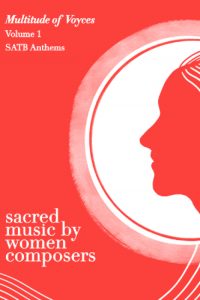 Nantwich Singers are delighted to have been given two sets of anthologies published by Stainer & Bell from the series entitled "Multitude of Voyces" which brings together compositions from the 16th century to the present day, which have seldom or never previously been published.  It is of course well known that over the centuries women have mostly been prevented from publishing their work, often resorting to 'hiding' their compositions behind a pseudonym, or the name of a husband or brother, or indeed remaining completely anonymous.  The anthologies provide a treasure trove of mostly unfamiliar works across a range of historical styles.
This is what the Director, Louise Stewart, says about the MoV project:
Our Anthology series brings together women's sacred music compositions across the centuries for use in concerts and in liturgical worship.
It aims to address the historical and current underrepresentation of women composers in sacred music by providing choirs with themed volumes of historically, stylistically and culturally diverse works.
In December 2020 the Nantwich Singers presented concerts in which we sang two works from the first anthology: the delightful miniature Christmas carol "Weihnachtslied" by Louise Reichardt (1779-1826), and the haunting setting of George Herbert's wonderful poem "The Call", by Gail Randall (b1955).  We were thrilled that Gail came to the concert and expressed her warm approval of our performance.
You can find out more about the MoV project here:
https://www.multitudeofvoyces.co.uk