News
Summer Concerts 2023
April 2022 "The singing will never be done"
How different things were only a year ago! We had recently lost our MD, we were in lockdown and had been unable to meet to sing for several months, But as a group we were absolutely determined that the Singers should survive and thrive no matter what. Many groups had folded during the pandemic, but we had so far hung on and even presented socially-distanced and fully sanitised concerts the previous Christmas.
The challenges were daunting, but the Singers are not just 'Singers' – they are the Nantwich Singers! And our ranks include not only many experienced amateur musicians but also several experienced professionals, and more or less my last job as then Chair was to ask two of these professionals to work together and take on the role of MD. Sue and Quentin made that leap of faith into the dark unknown of online rehearsing and led us through bravely. Anyone who has tried online singing rehearsals will sympathise. You can sing, but only if you all mute yourselves so that you can't hear anyone else, so it's a strange experience. But the important thing was that we were meeting every week, getting to know the music, and keeping in touch. Sue and Quentin came up with all sorts of aids to help the process, and rehearsals progressed from somewhat bumpy to pretty smooth over the course of the next few weeks!
Then the day came when we were allowed to meet in person – but only six at a time could gather and sing. Ever resourceful, Sue and Quentin organised us into sextets every week, and we took it in turns to sing together while the rest of the choir sat socially-distanced and masked in the main body of church. How lucky we are to have St Mary's to rehearse in, and it made these spaced-out rehearsals possible and safe. An added and unlooked-for bonus of this six-at-a-time method was a great encouragement to make sure every one of us knew her or his part very well – chances were there would be no other singer singing your part! Excellent practice, and maybe something we should continue anyway.
One sunny Spring evening the church key's arrival was delayed for some reason, but this offered another unlooked-for opportunity. Quentin (I think) was to start the rehearsal that evening and he said we should sing outside, altogether. Why not? Perfect ventilation and distancing possible! So we stood in the "well" outside the west door, and all sang together for the first time in many months.What an absolute joy and thrill that was! So much so that we decided to adopt it as our default strategy, weather permitting, and enjoyed lots of rehearsals outside as we prepared for our Summer concerts.
So the Nantwich Singers was clearly in no danger of folding, as so many other groups had. Quite the opposite – Sue especially was very active in recruiting new members, and this has been especially valuable as Covid-19 has continued to wreak havoc and thin our ranks in both rehearsals and concerts from time to time. Sue has also, assisted by Quentin, planned our very varied and imaginative programmes over the last year for subsequent concerts in Nantwich St Mary's and also in Astbury and Whitchurch, and we have been thrilled to be able to perform many lesser known and sometimes almost completely unknown works by composers who have been, for one reason or another, sidelined by the history books. Two of our anthologies comprise such works – all by female composers – and we have enjoyed performing a wonderful range of styles and eras of music through these.
One thing we have learned through this experience overall is that the Nantwich Singers is a group of highly committed musicians with a strong sense of identity and an absolute determination to pull together and keep the music happening, no matter what.
Everyone suddenly burst out singing:
And I was filled with such delight
As prisoned birds must find in freedom,
Winging wildly across the white
Orchards and dark-green fields: on–on–and out of sight.
Everyone's voice was suddenly lifted;
And beauty came like the setting sun;
My heart was shaken with tears: and horror
Drifted away. . .O, but Everyone
Was a bird; and the song was wordless; the singing will never be done.
(Siegfried Sassoon 1886-1967)
Rachel Duerden
"Multitude of Voyces"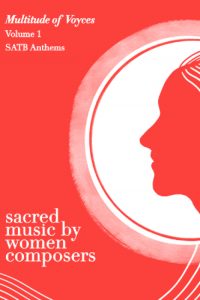 Nantwich Singers are delighted to have been given two sets of anthologies published by Stainer & Bell from the series entitled "Multitude of Voyces" which brings together compositions from the 16th century to the present day, which have seldom or never previously been published.  It is of course well known that over the centuries women have mostly been prevented from publishing their work, often resorting to 'hiding' their compositions behind a pseudonym, or the name of a husband or brother, or indeed remaining completely anonymous.  The anthologies provide a treasure trove of mostly unfamiliar works across a range of historical styles.
This is what the Director, Louise Stewart, says about the MoV project:
Our Anthology series brings together women's sacred music compositions across the centuries for use in concerts and in liturgical worship.
It aims to address the historical and current underrepresentation of women composers in sacred music by providing choirs with themed volumes of historically, stylistically and culturally diverse works.
In December 2020 the Nantwich Singers presented concerts in which we sang two works from the first anthology: the delightful miniature Christmas carol "Weihnachtslied" by Louise Reichardt (1779-1826), and the haunting setting of George Herbert's wonderful poem "The Call", by Gail Randall (b1955).  We were thrilled that Gail came to the concert and expressed her warm approval of our performance.
You can find out more about the MoV project here:
https://www.multitudeofvoyces.co.uk